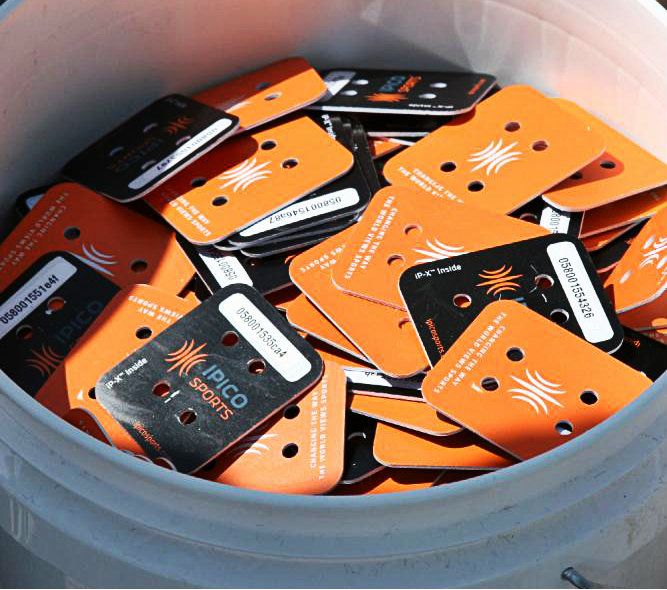 bucket of timing chips at the finish line
Yesterday I talked (in a ton of words) about the day before and morning of a race - what to expect, what to do, and tips & tricks. Often times, runner's forget that what they do after the race is just as important, if not more important. The first hour or so after your race helps determine how quickly and well your body will recover. So once you cross that finish line, what do you do?
First things first,
celebrate and relax!
Because you just accomplished something great and are now officially part of the 13.1 or 26.2 club - which gives you the right to place one of those stickers on the back of your car :) Minor details.
Most all races lead their runner's into a recovery area immediately after crossing the finish line - this is where all the goods are. Head in there and grab yourself a
chocolate milk.
I know, I know, people wonder why in the world runners drink chocolate milk after running - it sounds gross, right? Well let me be the one to tell you that it's the most delicious thing following a long run. Plus, it has a
4-to-1 carb-to-protein ratio
that's recommended for recovery. If you find that you're lacking an appetite, don't fret. This is totally normal and another reason why runners drink chocolate milk. Often times, we lose our appetite after running for hours on end because we've shocked our body and our sympathetic nervous system has taken over, which decreases our desire to eat. This is why chocolate milk comes in handy. because it's easy to stomach and gets your body the nutrients they need following your run.
If you do have an
appetite
, grab a banana, a bagel, pancakes, etc. Honestly, most everything they have at the finish line is game - except for those bags of chips! Leave those for the runners who just ran 26.2 miles - they have an immediate need to replenish the salt they just lost. Half-marathoners don't have as great a need, which may lead to excessive dehydration if you do give in and go for the salt. Speaking of dehydration - don't chug water immediately after you cross the finish line until you go to the bathroom first. Your electrolytes are all out of whack and chugging water can have some serious consequences. You should definitely drink water, but resist the urge to chug excessive amounts.
And now, stick around for the fun and excitement that surrounds the finish line area. It's always a great experience, and it definitely won't hurt to
cheer
on those runners coming in to finish! Afterwards, head out for a good, healthy brunch! I always opt for the local breakfast spots after my races once I have an appetite again. And lastly, enjoy the rest of your day - you just completed a run that is worthy of a celebration. Also, don't be afraid if you can't sleep - the adrenalin will remain in your blood for a few hours, so catching a nap is usually out of the question. One of the best decisions I made following my half marathon last year was to go for a
1 to 2 mile walk
in the late afternoon on the same day of my race. It helped get my legs moving to clear out that lactic acid, and I wasn't as sore the next day as I would have been.
Tomorrow, I'm going to share what I'll be wearing this weekend for race day. Get excited!