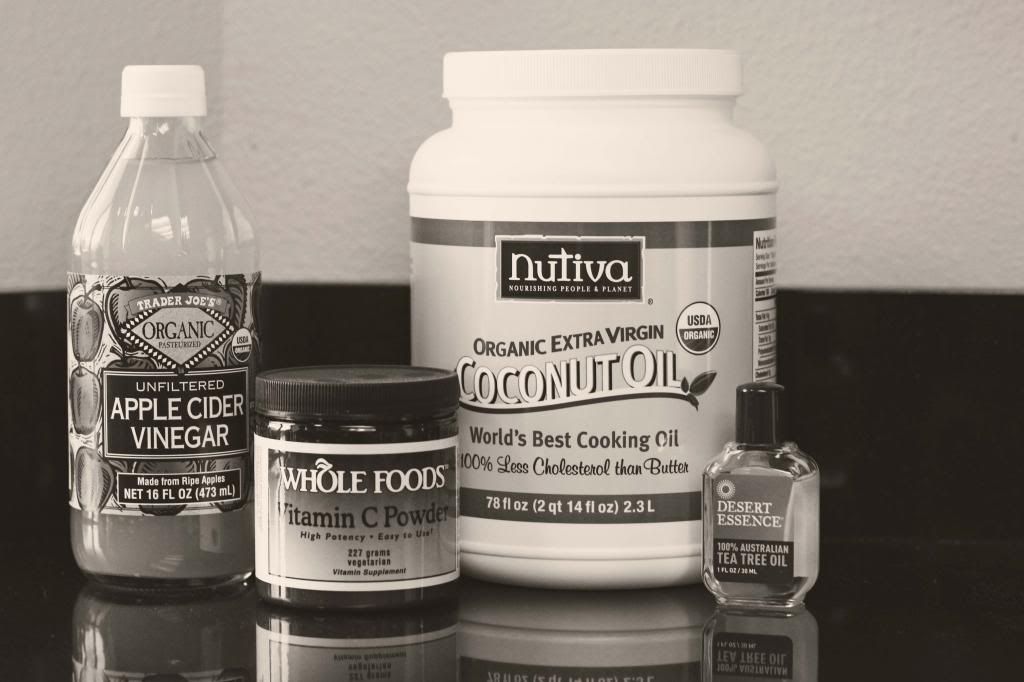 I'm no stranger to breakouts, especially during seasons in my life of high stress. Little sleep, lots of traveling, working full time and applying to med school left my complexion looking less than beautiful, which meant I was left covering it up with makeup instead of using makeup to highlight it. I started searching for answers, switching to different beauty products and finally made the executive decision to try an all natural route. I wanted to get away from all the chemicals found in mainstream face wash and moisturizers. Thanks to my science background, I knew these chemicals were doing more bad for my skin than good and reading the labels of beauty products that claimed to be all natural revealed chemicals in their ingredients. So that wasn't good enough.
After some research on the matter I quit the "all natural" products found in beauty stores and went with truly all natural products that are found in the grocery store. I purchased organic unfiltered apple cider vinegar, organic cold-pressed coconut oil, vitamin C powder, raw unpasteurized honey and undiluted tea tree oil. I haven't looked back since. Within three days my skin was drastically different. My complexion was glowing, bright and began to even out. My breakouts were gone and didn't return. My skin was always moisturized, never oily and "plump" all day long. At first I thought it was too good to be true, but a few weeks later I'm convinced that the true all-natural route is the way to go. So how do I use these products and what is my new found beauty regime?
Morning and night I start by washing my face with Cetaphil (this is the one product that I haven't switched out yet). I then use a diluted apple cider vinegar toner. After that has dried I apply tea tree oil to any potential problem areas and follow with coconut oil as my moisturizer. A few times per week I use a homemade vitamin C serum in the mornings and a pure honey mask in the evenings.
1|| apple cider vinegar toner:
apple cider vinegar is naturally acidic, so it helps remove excess dirt, oil and makeup at the end of the day. It stinks though, so I only use it at night before going to bed. It can help lighten sun, age and acne scars as well as help minimize the appearance of pores. I began by using a 1:1 ratio of organic unfiltered apple cider and water, but it dried out my skin so I switched to a 15% dilution and this seems to be my "sweet spot." I recommend starting with a 5:1 ratio and adjusting as needed. I just store my ACV toner in a glass container in the bathroom and dip a cotton ball in it, use it all over my face and don't rinse it off. After it dries I follow with tea tree oil and coconut oil.
2|| tea tree oil:
undiluted tea tree oil is naturally antibacterial, anti-viral and anti-fungal. It helps reduce inflammation, increases the healing process and prevents future infections. I store my tea tree oil in the bathroom cabinet and whenever I notice a problem area I just dip a q-tip in it and apply the oil directly to the problem area. Within a day or two the blemish is completely gone. It's amazing!
3|| coconut oil:
coconut oil has become my number one beauty staple. It's anti-bacterial, anti-fungal, infection fighting, can act as a sunscreen, is a natural antioxidant, and a deep penetrating moisturizer. When I first started using it I thought it seemed counter intuitive to use it as a blemish treating moisturizer because oil generally leads to break outs. I thought it would leave my skin excessively oily but quickly realized that coconut oil is not like other oils...it dissolves quickly and leaves no trace of a residue. And since oil production is a result of dry skin, using coconut oil as a moisturizer actually decreases your natural oil production. I apply this directly to my face in it's natural form as the last step in my beauty regime both day and night. I wake up the next morning and my face is soft, glowing and fully moisturized. At the end of the day my skin is never oily but looks fresh all day long. With coconut oil, a little bit goes a long way. Just apply a small amount all over your face and if it's the morning, apply makeup on top of it. You will not regret using this!
4|| vitamin C serum:
I love vitamin C serum, but it was just too expensive for me to justify purchasing, so I bought a jar of whole foods pure vitamin C serum and decided to make my own. I combine 1/4 tsp vitamin C powder with 1 tsp water and mix until dissolved. I transfer it to an amber dropper bottle and shake to ensure the powder is completely dissolved. Then, a few days per week in the morning, I apply this before applying my tea tree oil or coconut oil. I just use the dropper to place a few drops on a cotton pad and apply the same way I would a toner. Vitamin C stays in the skin for up to 3 days, that's why I don't apply it every day. It helps make my skin appear fresh and alive throughout the day. And it's much cheaper to make your own. $10 for an entire bottle of vitamin C powder that will last forever vs $30+ for a tiny bottle of serum.
5|| honey in the raw:
not pictured is raw unpasteurized honey, which I use as a face mask about once per week. I just pull my hair back, goop a tablespoon on my face, spread it evenly and let it sit for 15-20 minutes. Raw honey is a natural antioxidant, anti-bacterial and a great moisturizer. It helps soften, balance and cleanse your skin. You can even add cinnamon and nutmeg, which are both anti-inflammatory, to help soothe and decrease any blemishes.
Do you use an all-natural beauty regime? What are your staple products?